Blowpipe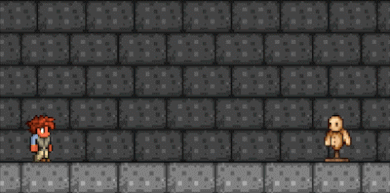 The Blowpipe is a ranged weapon that auto-fires Seeds and Darts as ammunition. When a Blowpipe is in a player's inventory, there is a chance that any vegetation growing on normal grass blocks will yield some Seeds. Flowers growing in Clay Pots and Planter Boxes can also yield Seeds. Both wild and cultivated flowers typically drop 4 Seeds at a time; tall grass typically drops 1–2 Seeds.
The Blowpipe can be found randomly in Wooden Chests near the Surface or in the Underground layer.
Its best modifier is Unreal.
 Desktop version

 Console version

 Switch version

 Mobile version