Brain of Cthulhu 
(Brain of Cthulhu/tr)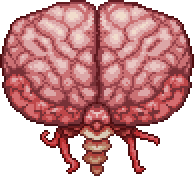 Classic

 Expert

 Master
Brain of Cthulhu
İkinci Evre

 Classic

 Expert

 Master
 "Korkunç bir soğuk omurgandan aşağı iniyor..." 
Cthulhu'nun Beyni Zor Mod öncesi, Crimson biyomunda yaşayan ve büyük, uçan bir beyne benzeyen bir bossdur. Oyuncu 3 tane Crimson Kalbi kırdığı veya bir Kanlı Omurga kullandığı zaman doğar.
20 ile 30 arası Creeper Beyin ile birlikte doğar ve yüksek hızla belirli bir yörüngede dönerler. Bütün Creeperlar öldürülmeden Beyne hasar verilemez. Creeperlar öldürüldükten sonra yeniden doğmazlar ve Beyin, saldırılara karşı savunmasız kalır.
Cthulhu'nun Beyni, Çoraklık'ın bossu olan Dünyalar Yiyen'in Crimson suretidir. Kuzeni gibi, bu Patronla savaşmak da ilerleme için gereklidir. Çünkü Beyin ve beraberindeki Creeperlar Doku Örneği ve Crimtane Cevheri gibi ileri seviye Aletler ve Zırhlar yapmak için gerekli olan kaynakları düşürürler. Dünyalar Yiyen gibi aslında Cthulhu'nun Beyni'ni yok etmek de gerekli değildir, yeterince Creeper öldürerek gerekli materyallere sahip olabilirsiniz.
İlk aşamada beynin kendisi yenilmezdir (hasar verilemez). Oyuncunun etrafında ışınlanır,
Creeperlar saldırırken tekrar rastgele bir yere ışınlanmadan önce oyuncuya yaklaşır. Creeperlar beyin ile birlikte ışınlanmak yerine beyin ile oyuncu arasında büyük, kıvrımlı yörüngelerde ileri geri çekilirler. Bütün Creeperlar öldürüldükten sonra beyin ikinci evresine geçer. Uzman Mod'da Creeperlar çeşitli durum etkileri verebilirler.
İkinci evrede beyin, saldırılara karşı savunmasız kalır ve ışınlanmadan önce oyuncuya agresifçe bir çarpma girişiminde bulunur.
İkinci evrede ek olarak oyuncunun dikkatini dağıtmak için beynin 3 ayna görüntüsü belirir, patronun sağlığı azaldıkça görüntüler netleşir. Uzman moddaki creeperlar gibi beyin de ayrıca Karanlık, Susturulmuş ve Zayıflık gibi durum etkilerine neden olabilir.

Mastermind
 •
"Defeat the Brain of Cthulhu, an enourmous demon brain which haunts the creeping crimson."
Cthulhu'nun Beyni'ni ilk kez yen.

Cthulhu'nun Beyni ve Cthulhu'nun Gözü, yazar H.P. Lovecraft'ın eserlerinden Cthulhu karakterine dayanır.
Dünyalar Yiyen ile Yokedici arasındaki ilişkinin aksine Cthulhu'nun Beyni'nin bir Zor Mod karşılığı yoktur. Unlike the correlation between the Eater of Worlds and The Destroyer, the Brain of Cthulhu does not have a Hardmode counterpart.
Cthulhu'nun Beyni bütün patronlar arasında en düşük sağlık puanına sahiptir, hatta sağlığı Cthulhu'nun Gözü'nün ikinci formundan bile daha düşüktür. Ancak creeperların sağlığı da sayılırsa Balçık Kral'dan fazla sağlığa sahiptir.
 Masaüstü versiyonu
Desktop 1.2.3:

Cthulhu'nun Beyni'ni öldürmek artık Orman Perisi'nin kasabanıza taşınmasına izin veriyor.
Artık Beyin Maskesi düşürme şansı var.
Cthulhu'nun Beyni'ni öldürdükten sonra Orman Perisi'nin doğmaması ve yarıklardan konuşmaya devam etmesi hatası düzeltildi.