Wiki reading hard on the eyes? Try out our Dark Theme! Visit
the preferences page
while logged in and select Hydra Dark.

As part of the Unified Community Platform project, your wiki will be migrated to the new platform in the next few weeks. Read more here.
Cloud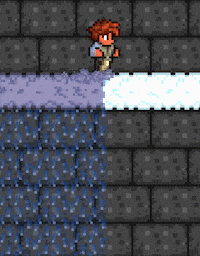 Cloud is a block type found beneath Floating Islands, along with Rain Cloud blocks. Cloud blocks display as solid blocks, but light passes through them as if they were empty space. On
 Desktop, they also negate fall damage similar to Pink Slime Blocks without the bouncing effect. They can be harvested by the player for building translucent structures. Clouds can also be used to make Cloud Walls, or vice versa.
| Result | Ingredients | Crafting station |
| --- | --- | --- |
| Cloud | | Work Bench |
Result
Ingredients
Crafting station
Snow Cloud
Sky Mill and Snow biome
Rain Cloud ( )
Sky Mill and Water
or
Sink
Cloud Wall

(4)

Work Bench
The Cloud block is a very useful way to decorate player-built Floating Islands.
Cloud blocks can be used as an alternative to Glass as it also allows light to pass through.
Clouds can be used in Hellevators to avoid dying from fall damage.
 Desktop version

 Console version
 Switch version

 Mobile version
version