Wiki reading hard on the eyes? Try out our Dark Theme! Visit
the preferences page
while logged in and select Hydra Dark.

Code 1
Code 1

Projectile created
Code 1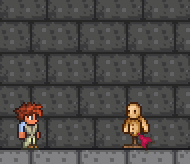 The Code 1 is a yoyo purchased from the Traveling Merchant for 50000*5 once the Eye of Cthulhu has been defeated.
It has a spin duration of 9 seconds, and can reach up to 13.5 tiles.
Its best modifier is Godly or Demonic. Both modifiers increase its average damage output by the same amount.
 Desktop version

 Console version
 Switch version

 Mobile version