Exotic Scimitar
Exotic Scimitar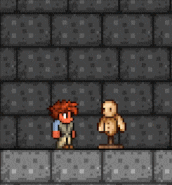 The Exotic Scimitar is a melee weapon that has a 12.5% chance of being dropped from the Dye Trader. It is considered to be a broadsword and will, therefore, swing overhead.
Its best modifier is Legendary.
Because the player cannot directly attack the Dye Trader with normal weapons, Rotten Eggs or external damage sources such as traps are needed to kill him.
The Dye Trader will use this weapon when defending himself.
A scimitar is a curved sword of Middle Eastern origin used for fighting. It was used as early as the 9th century and has become an important symbol in many Arab cultures.
This weapon looks very similar to the Cutlass.
It also resembles the crossed swords icon used to enable PvP in multiplayer.
 Desktop version

 Console version

 Switch version

 Mobile version