Wiki reading hard on the eyes? Try out our Dark Theme! Visit
the preferences page
while logged in and select Hydra Dark.

As part of the Unified Community Platform project, your wiki will be migrated to the new platform in the next few weeks. Read more here.
Firework Rockets
Firework Rockets are consumable Hardmode mechanisms that produce colorful effects. Once placed, a Firework Rocket can be activated via wire or by pressing the ⚷ Open / Activate button on it directly, which causes it to launch upwards and explode into a colorful effect. Each rocket can only be used once. Firework Rockets are purchased from the Party Girl during Hardmode for 1500*15 each.
Although their effect is primarily visual, Firework Rockets also deal 150 damage, though they only fire directly upward and players are not harmed.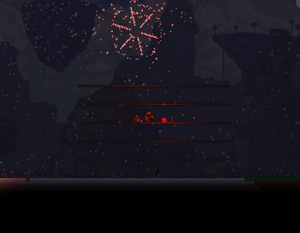 Desktop version

 Console version
 Switch version

 Mobile version
version