Wiki reading hard on the eyes? Try out our Dark Theme! Visit
the preferences page
while logged in and select Hydra Dark.

Flaming Mace
Flaming Mace

Projectile created
Flaming Mace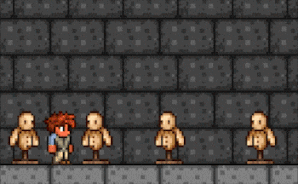 The Flaming Mace is a flail weapon craftable in early pre-Hardmode. It has a 16.67*1/6 (16.67%) chance to inflict the On Fire! debuff. Stepping in water or submerging the head extinguishes and the projectile effectively becomes that of a regular Mace.
Its best modifier is Godly or Demonic. Both modifiers increase its average damage output by the same amount.
Because it inflicts the On Fire! debuff and is not difficult to obtain, it is a very powerful starter weapon.
The Flaming Mace strongly resembles the Sunfury. Both flails inflict On Fire!, though the Sunfury does not extinguish upon contact with water.
 Desktop version