Guide:Hardcore
This is a Guide page.
This means the page will walk you through a specific task, strategy, or enemy/boss fight.
Status: Subject to revision (This Guide does not meet certain quality standards and may be heavily outdated.)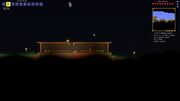 Welcome to Hardcore! With only one life, your trusty tools, and the environment around you, you are ready to embark on a dangerous journey. Only two things are different, a special item, and you only have one life. Those are the only changes. However, you are now playing a much harder game. With only one life, you have to be more careful when it comes to traps, bosses, events, and just plain exploring. But do not worry. This guide will tell you many tips and tricks for surviving in the mortal plane.
This is a very hard difficulty, and if you make any mistakes, it could end the save permanently!
Right away, build a shelter. You can use this to hide from enemies during the night. It is recommended to make multiple shelters so you always have a place nearby to restore health, manage your inventory and store your items. A good shelter should not have doors, unless you use a torch to block it from opening. The player will still be able to open the door by walking to the door, turning away from it, then opening it. During a Blood Moon, mobs can open doors and kill you very quickly. Instead, make a trapdoor (or platform) exit at the top of your base 2 blocks wide. This is big enough for you to get through but keeps almost all Demon Eyes out of your house. Also to make sure to have 1 block wide stubs at the top of your roof to prevent Zombies and other fighters from jumping into your house. If you put platforms against the inner part of your walls and hammer them once, you can make a 1-way door that you and projectiles can go out of the house, and enemies and other things can't get into it unless they can go through blocks. For the final base tip, a good way to keep all of your things in order is to name your chests. Keep potion ingredients and potions near your alchemy setup, and ores, bars, and gems near your anvil and furnace. Another good way to stay alive AND farm for resources is to build a death pit, by digging a hole deep enough to prevent monsters from jumping out, but not deep enough to keep them below the ground entirely.
Until you are geared up, do your early game errands at the time of day. Do not go out during the first few nights, especially not during a Blood Moon. In cases of a Blood Moon, make sure to block the entrances, so enemies cannot get in.
Get some health and mana restoring items. With just one life, you don't want to die.
Use Recall Potions to quickly get home if you are far from shelter, or if you are on low health and need to heal safely. Also, use a Magic Mirror if you have one. However, this does have a slight delay, so remember to allow for it.
Chop down trees to craft a Workbench and a Wooden Sword and/or a Wooden Bow. You may also might want to craft Wood armor if you are not confident.
Go left or right until you find a Desert or Snow Biome. Chop down enough Cactus to craft full Cactus gear. Loot all chests you may find along the way.
Return to the Forest biome and chop down trees until night. During the night, start constructing your NPC homes. Make sure you are completely enclosed in wood blocks while building, as it is very easy to die early on.
When it is day again, keep walking until you find a cave to explore. You should have torches from killing Slimes the previous day. Explore these caves for minerals and chests.
Find a Magic Mirror variant or stockpile on Recall Potions from pots and chests for easy transportation back to base.
Fill your Accessories bar with useful early-game loot.
Craft a Grappling Hook variant, like a Gem Hook.
Acquire basic chest items, such as an Umbrella or a Cloud in a Bottle variant. This is especially useful for mobile players as missing a Grappling Hook can kill your character.
Craft a Gold/Platinum Pickaxe.
Craft at least full Silver/Tungsten armor.
Acquire Shiverthorn, Daybloom, Blinkroot, and Waterleaf Seeds. Shiverthorn makes Dangersense Potions which are almost essential for exploring caverns as one Boulder or Explosive Trap can kill you instantly. Generally, you should be careful when explore the Cavern layer without Dangersense potions if you don't think you are good at detecting pressure plates.
You could work on obtaining some more advanced chest items, i.e. loot from Gold Chests, such as the Hermes Boots, Enchanted Boomerang, or Spear.
Unlock the Angler and begin fishing as soon as possible. Crates give amazing rewards for the early game and can give the player a huge advantage, such as the Falcon Blade from the Iron Crate. Fish in the deepest lake you can find, you may have to artificially channel water into one spot to avoid getting junk.
Acquire at least 200 Mana and 200 Health as soon as possible, as this will give you much more survivability options.
Kill the Eye of Cthulhu to get some upgrades to your tools and weapons, such as the Demon Bow/Tendon Bow, and Light's Bane/Blood Butcherer.
Craft a bed to speed up time.