Wiki reading hard on the eyes? Try out our Dark Theme! Visit
the preferences page
while logged in and select Hydra Dark.

Guide:Queen Slime strategies
This is a Guide page.
This means the page will walk you through a specific task, strategy, or enemy/boss fight.
Status: Under revision (This Guide is currently being revised or has been revised partially. It hasn't met all quality standards yet.)
The Queen Slime is a optional early Hardmode boss fought in the Hallow. She is the hardmode version of King Slime.
Queen Slime
First Form
Hardmode exclusive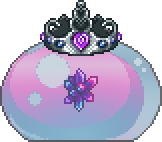 Classic

 Expert

 Master
Queen Slime
Second Form
Hardmode exclusive

 Classic

 Expert

 Master
Queen Slime can be summoned by using a
Gelatin Crystal
in The Hallow, which is found in the Underground Hallow in the same places that

Crystal Shards spawn.
In her first phase, Queen's Slime jumps around in a similar fashion to King Slime, though much faster. She periodically summons Crystal Slimes, Heavenly Slimes, or Bouncy Slimes. Crystal Slimes will shoot several crystals upwards, Heavenly Slimes will fly towards the player and Bouncy Slimes will fire bouncing shots towards the player. After a few jumps, she does one of two things, chosen at random:
Will stay in one place for a few seconds, before jumping very quickly towards the player and attempt to stomp them, dealing high damage.
Will stay in one place for a few seconds, before firing 6 Regal Gel that bounce twice before breaking. Sometimes, she will perform this attack multiple times in a row.
Killing the smaller slimes should be a priority during this phase, as they can quickly overwhelm the player.

When at 50% health, Queen Slime will grow wings and begin to fly like a Slimer. Her AI also changes:
She will occasionally shoot  Regal Gel in 10 directions.
She will occasionally attempt to fly above and drop down onto the player.
This content is transcluded from Guide:Practical Tips § Combat.Guide:Practical Tips
Queen Slime shoots out bouncing projectiles that can be a challenge to dodge, especially in the second stage. Fighting in an off-ground arena with platforms on the bottom will allow the projectiles to fall out safely. For example, a Sky Bridge consisted of platforms is extremely recommended. If you have Lava Waders or its upgrades, it may be a good idea to use bubble and lava instead of platforms, as the neither the Queen Slime in the first phase nor the slimes she summons can stand on them. This will come at the cost of slowing down each time the player moves through the lava.
It's important to have weapons that can deal with the crowd of slimes that she summons, as well as weapons that can reach her in her winged form.
For Melee users
For Ranged users
For Magic users
For Summoners
There are many great accessories available at this point.
As with most situations in general, it is best to reforge your accessories with damage, critical strike chance or defense increasing modifiers.
During the second stage, Queen Slime follows a fairly predictable pattern. The player can run back and forth on a long platform, jumping over projectiles, and Queen Slime will remain at roughly the same height the entire time, making targeting easier.
Fighting on a long skybridge can make avoiding the spawned slimes much easier. Queen Slime is fairly slow in her first stage, but her winged form can keep up with the mounts summoned by the Goat Skull and Blessed Apple. Be careful if you reverse directions as all previously summoned slimes will still be alive.
Like nearly all bosses, the Queen Slime is immune to lava, but her minions are not. A thin layer of lava can be used to take out most of her minions. Combined with Lava Waders, Terraspark Boots, Water Walking Potions, or Obsidian Skin Potion, you can easily decimate her.
The Black Spot Mount (Master Mode Only)
[
edit
|
edit source
]
The Black Spot is a great mount for fighting the Queen Slime, as it has infinite flight and it is faster than most mounts in early Hardmode. Using a strong weapon like Dart Rifle with Cursed Darts, it is possible to kill Queen Slime and her minions very fast. Note that Queen Slime can teleport to you in her first phase, so you have to keep on moving to dodge her attacks.