Wiki reading hard on the eyes? Try out our Dark Theme! Visit
the preferences page
while logged in and select Hydra Dark.

As part of the Unified Community Platform project, your wiki will be migrated to the new platform in the next few weeks. Read more here.
Hallowed armor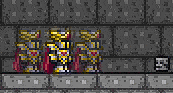 Hallowed armor is a Hardmode armor set. It has ranged, melee, magic and
summoner set versions, depending on the equipped headpiece. Crafting a full set with one headpiece requires 54 Hallowed Bars (dropped by the mechanical bosses), or 90
/ 78



Hallowed Bars for the full set including all four
/ three



headpieces. Wearing a full set gives off a faint pulsing aura around the player and displays an after-image effect while in motion. To acquire the necessary Hallowed Bars for a full set with one helmet, the player will need to kill the mechanical bosses at least twice, and 2-4 times on the

 Console version,

 Old-gen console version,

 Mobile version, and
 3DS version for all three helmets, or 3-5 times on the
 Desktop version for all four helmets.
Additionally, wearing a full set, striking an enemy with a melee, ranged, or magic weapon, or having an enemy be hit by one of the player's minions will grant the Holy Protection buff, which allows the player to dodge the next attack dealt by an enemy. It has a cooldown of 30 seconds. This set bonus is identical to the Shadow Dodge



buff from Titanium armor. Wearing a full set with the Hallowed Hood additionally increases minion capacity by 2 as a set bonus, making the total minion capacity of the hood-set 3, for a total minion count of 4.
It currently shares identical stats with Ancient Hallowed armor
, but differs in appearance. Furthermore, Ancient Hallowed and Hallowed armor pieces can be mixed and matched while still providing their set bonus.
 Desktop version

 Console version
 Switch version

 Mobile version
version