Wiki reading hard on the eyes? Try out our Dark Theme! Visit
the preferences page
while logged in and select Hydra Dark.

As part of the Unified Community Platform project, your wiki will be migrated to the new platform in the next few weeks. Read more here.
Hellforge
The Hellforge is a crafting station that incorporates the same functions as a regular Furnace, additionally being able to smelt Hellstone into Hellstone Bars. It is also used to craft the essential Adamantite/Titanium Forge in Hardmode.
Hellforges cannot be crafted, and are found in Ruined Houses in the Underworld.
There, Hellforges can only be collected with a Deathbringer or Nightmare Pickaxe or better (60% pickaxe power). Once placed at higher depths, they can be removed with any pickaxe.
The Hellforge also functions as a Furnace.
Hellforge

| Result | Ingredients |
| --- | --- |
| Hellstone Bar | |
| Lavaproof Bug Net | |
Furnace
Result
Ingredients
Adamantite Beam
Bottle

(2)

Bowl
Bubblegum Block
Chlorophyte Brick

(2)

Clay Pot (   )
Clay Pot ()
Cobalt Bar
Cobalt Brick
Copper Bar
Copper Brick
Crimstone Brick
Crimtane Bar (  )
Crimtane Bar ( )
Crimtane Brick

(5)

()
Crimtane Brick (   )
Crispy Honey Block (   )
Demonite Bar (  )
Demonite Bar ( )
Demonite Brick

(5)

Ebonstone Brick
Glass
Glass Bowl

(2)

Gold Bar
Gold Brick
Gray Brick
Gray Stucco

(10)

Green Stucco

(10)

(  )
Green Stucco
(

みどりのしっくい

)

(10)

()
Green Stucco

(10)

( )
Hellstone Brick
Iridescent Brick
Iron Bar
Iron Brick
Lead Bar
Lead Brick
Luminite Brick

(2)

Meteorite Bar
Meteorite Brick

(2)

Mudstone Brick
Mug
Mythril Bar
Mythril Brick
Obsidian Brick

(2)

( )
Obsidian Brick

(2)

()
Obsidian Brick ( )
Obsidian Skull
Orichalcum Bar
Palladium Bar
Palladium Column
Pearlstone Brick
Pink Vase
Plate
Platinum Bar
Platinum Brick
Pumpkin Pie
Red Brick
Red Stucco

(10)

Sandgun
Sandstone Brick
Shroomite Plating

(15)

Silver Bar
Silver Brick
Smooth Sandstone
Teapot
Terrarium
Tin Bar
Tin Brick
Titanstone Block
Tungsten Bar
Tungsten Brick
Wine Glass
Yellow Stucco

(10)
On the  Console version, Hellforges can spawn just above the Underworld.
The sprite appears to have a small flow of lava on the right side.
Even though the Hellforge looks like a furnace and acts like one, it cannot be crafted and must be found or taken from other players.
You can easily get one early game by using a Teleportation Potion and spawning in the Underworld or near it.
In the mobile version, some recipes might not be craftable at a hellforge, which can be crafted at normal furnaces.It might be a good idea to only use hellforges to craft hellstone, but keep the "Stone Furnace" placed in pre-hardmode.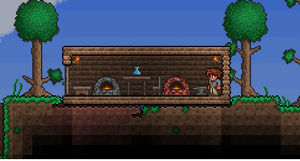 Desktop version
Desktop 1.4.0.1: Can no longer be broken with any pickaxe/drill with less than 60% Pickaxe power in the underworld.
Desktop 1.2:

Sprite updated. Previous sprite was
Now requires a pickaxe instead of a hammer to be moved.
Now used to craft the Titanium Forge.
Desktop 1.0.4: Hellforges above the rock layer can be moved with any Hammer, but below require a 60% power hammer or stronger.

 Console version
 Switch version

 Mobile version
version