Inventory editors
Third-Party Software
This page describes software not developed by Re-Logic.
Software listed on this page has not been tested and is not endorsed by Terraria Wiki, Gamepedia, Fandom, Re-Logic, or their respective employees. Use it at your own risk. By downloading any third party software, you acknowledge that you cannot hold
anyone
responsible for any adverse effects to your devices, your game, or your online accounts.
An inventory editor is a third-party program that allows adding or removing items from the inventory of a local character, and in many cases, edit other character data.
Inventory editors are primarily designed for the
 Desktop version of Terraria. It is strongly advised to back up the character files before proceeding to use any kind of inventory editor.
Terrasavr is an inventory and character editor in a web-based app which includes a user-friendly interface. It is completely safe to use, since it does not interact with the files in the local Terraria directory in any way. Note that when saving a character file, it will have to be renamed to <name of choice>.plr to be used in-game.
This inventory editor can also be used on

 Mobile devices since the 1.3.0.7 update. The character files should be located in:
One might want to use the editor in landscape mode on

 Mobile so that interface elements are not chopped up.

WinTerrEdit
Latest version
1.10.5
Compatible with
Terraria 1.4.1.1
Platform
Windows
Author
nymda
Download
WinTerrEdit is a Windows-based inventory and character editor. It works as a standalone executable without any dependencies. It was tested mostly on Terraria versions after Journey's End, but works on versions as far back as 1.3.0.1.
The editor supports editing the character's details, inventory, Piggy Bank, Safe, and some miscellaneous items.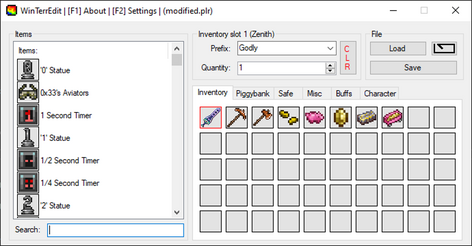 The source code can be found on the official GitHub page.
Terraria InvEdit
Latest version
7.0.0
Compatible with
Terraria 1.3.5.3
Platform
Windows
Author
Shoot
Download
Terraria InvEdit is a Windows-based inventory and character editor, designed to be compatible with Steam. The author appears to have abandoned it.[1]
The source code of the application was released to the public and can be used to update the editor to work with newer versions of Terraria, should someone wish to pick it up.