Jungle

The Jungle is a surface biome composed primarily of grass, vines, Mud, Jungle Trees, Bamboo

and pools of water, with a dark green background. Jungle trees grow automatically on Jungle grass found there, though traditional Acorns can also be planted. The Underground Jungle is found just below the Jungle, beginning at cavern depths.
The Jungle is one of the more challenging surface biomes, especially for those just entering Hardmode. Jungle enemies have much more health and deal more damage than those typically found in other surface areas.
Players can seed new Jungle areas by planting Jungle Grass Seeds in Mud Blocks. Jungle grass spreads much more slowly than ordinary grass. A Jungle biome will activate once a minimum of 140 Mud Blocks are covered with Jungle grass, or with 140 Lihzahrd Bricks.
The Jungle becomes substantially harder during Hardmode. Additionally, there is a danger that the Jungle can be completely overtaken by the spread of Corruption/Crimson once Hardmode has been in effect for some time, making essential Jungle items more difficult to acquire, but defeating Plantera will slow down the spread of Corruption/Crimson and Hallow to 50% of their original speed in Hardmode.
Goblin Scouts can spawn here rarely, similarly to the forest.
| | Jungle |
| --- | --- |
| Loved by | n/a |
| Liked by | |
| Disliked by | |
| Hated by | n/a |
For more information, see NPC happiness.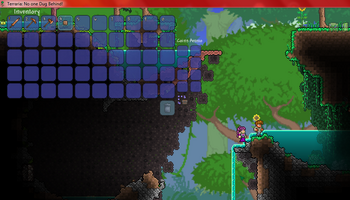 This content is transcluded from Biome backgrounds § Jungle.
Some Jungle backgrounds are combined with the current forest background.

 Desktop version
Desktop 1.4.0.1:

Added four new backgrounds.
Added new Jungle Night track. Also introduced the alternative Otherwordly Jungle track, originally from Terraria: Otherworld, which plays once the player has entered the 05162020 seed and pressed the "Music" option in the Party Girl's menu.
Added multiple new drops from enemies:
Bamboo now spawns frequently on Jungle grass in shallow water.
Changed amount of blocks required to make an artificial jungle from 80 to 140.
Jungle Pylons will now be sold by any happy NPC in the Forest biome for

7

50

to

8

50

. While any number of pylons can be placed in a Jungle biome, only one Jungle Pylon can be functionally used per world.
Shaking trees has a chance to drop either Coins, Eucalyptus Sap, a Mango, a Pineapple, Rich Mahogany, or Rotten Eggs. Bees, Beehives, or a Jungle Bat may also fall or fly out of the tree.
The Bramble Crate, the Hardmode equivalent to the Jungle Crate, can now be caught when fishing and contains Hardmode bars and ores.
The Dryad, Painter, and Witch Doctor NPCs now like living in the Jungle, while the Cyborg, Goblin Tinkerer, and Steampunker dislike it.
The Jungle Turtle critter now frequently spawns in the Jungle.
Desktop 1.3.1: Beehives now spawn over time under Jungle Grass ceilings of the Jungle and Underground Jungle.
Desktop 1.2.0.3: Pre-Hardmode Jungle enemies now have a small chance of spawning in the Hardmode Jungle.