KO Cannon
KO Cannon
Projectile created
Boxing Glove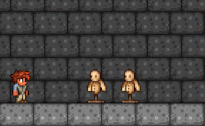 The KO Cannon is a Hardmode melee weapon which is rarely dropped by any enemy or NPC during a Blood Moon in Hardmode, having a 1/1000 (0.1%) chance to drop. It autofires a boxing glove projectile that is connected to the weapon's base by a short, thick chain. After striking a target or traveling 17 blocks, the glove retracts back into the weapon before being ready to fire again.
Despite this weapon having a relatively short range compared to the Harpoon, its higher knockback, base damage, and immunity to gravitational arcing defines this weapon as an undisputed upgrade to the Harpoon.
The KO Cannon has no cooldown period; therefore its autofire rate is dependent only on the distance to its impact, meaning that an enemy or object in close range will cause a faster autofire rate.
Its best modifier is Godly or Demonic. Both modifiers increase the average damage output by the same amount.
 Desktop version

 Console version

 Switch version

 Mobile version