Love Potion
Love Potion


| | |
| --- | --- |
| Debuff | Lovestruck |
| Debuff tooltip | You are in love! |
| Duration | 30 seconds |
Projectile created
Love Potion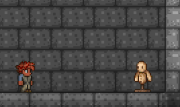 The Love Potion is a Hardmode thrown potion that functions similarly to Thrown Water, but inflicts no functional effect. Hitting a solid block will inflict all players, NPCs, enemies, and critters with the Lovestruck debuff, causing them to emit red hearts for 30 seconds, similar to the Water Gun's dripping. This effect is purely cosmetic.
Despite the Princess Fish being available on the  version and having 'Material' listed in its tooltip, the Love Potion cannot be crafted due to a lack of Shiverthorn in the game.
It can be created and used in Pre-Hardmode worlds, if an artificial Hallowed sea or lake is created for fishing - or if either Princess Fish or the Love Potion itself is transferred to the world by a Hardmode player.
Since the Princess Fish (

25

) sells for more than the Love Potion (

40

), it is more economical to sell the fish than it is to sell the potions.
 Desktop version

 Console version

 Mobile version

 Switch version