Onyx Blaster
Onyx Blaster

Projectile created
Onyx Blaster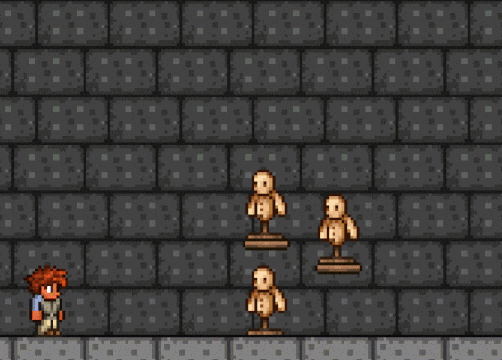 The Onyx Blaster is a Hardmode ranged weapon that fires a spread of 4 bullets while only consuming one unit of ammunition, and a single dark energy projectile that explodes upon impact with an enemy or a block, or after traveling for 0.67 seconds (about 36 tiles).[1] The explosive projectile does 48 base damage, twice the listed damage of the weapon.
The Onyx Blaster is a direct upgrade to the Shotgun. It can be crafted before defeating any of the mechanical bosses.
Its best modifier is Unreal.
Result
Ingredients
Crafting station
Onyx Blaster
Mythril Anvil
or
Orichalcum Anvil

Onyx is a mineral commonly found around the world.

Despite being named Onyx Blaster, no onyx is used to craft the weapon, nor does onyx exist in Terraria.

This is one of a small "set" of weapons made with two Shards apiece, the other members being the Sky Fracture and the Dao of Pow. Their recipes, names and appearances link the weapons to themes of Darkness, Light, and Balance, with the Onyx Blaster representing Darkness. The set also includes one weapon for each of the three "classic" damage types (melee, magic, and ranged), where the Onyx Blaster is the ranged weapon.
It is one of two firearms in Terraria to feature an operating secondary weapon, the other being the Vortex Beater.
 Desktop version
Desktop 1.4.1:

Damage decreased from 28 to 24.
Use time increased from 45 to 48.

 Console version

 Switch version

 Mobile version