Paintball Gun
Paintball Gun

Projectile created
Paintball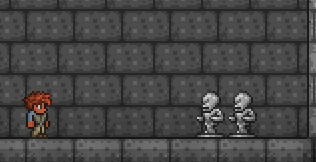 The Paintball Gun is a ranged weapon which has a 10% chance of being dropped from the Painter NPC. It fires a three-shot burst of slow-moving, arcing projectiles which consume no mana or ammunition.
Its best modifier is Unreal.
The Painter will use the Paintball Gun to defend himself.
The Paintball Gun's projectiles will have a slight "waver" when in the air.
Though it is somewhat inaccurate at longer ranges, the respectable damage output, increased critical strike chance and lack of needing ammunition or mana makes the Paintball Gun a potent and reliable early-game weapon.
 Desktop version

 Console version

 Switch version

 Mobile version