Rainbow Gun
Rainbow Gun

Projectile created
Rainbow Front

Rainbow Back
The Rainbow Gun is a Hardmode, post-Plantera magic weapon. It launches a rainbow that travels in a straight line for a short distance before curving downwards. The rainbow persists for 20 seconds or until another rainbow is fired. Enemies touching it take damage repeatedly, approximately five times per second. The Rainbow Gun is found in the Dungeon's Hallowed Chest, which must be unlocked with a Hallowed Key.
Its best modifier is Ruthless. The Mythical modifier provides the widest array of stat bonuses, but the only stats that improve damage output are damage and critical chance. Switching to a different magic weapon causes existing projectiles to use that weapon's critical chance instead, meaning that the Rainbow Gun's DPS is optimized with the Ruthless modifier when used in the intended way.
Fired horizontally, the rainbow will travel straight for approximately 35 tiles before curving.
Fired 45 degrees, diagonally, the rainbow will travel approximately 4 tiles before curving.
Fired at a perfect 90-degree angle up or down, the rainbow will travel straight for 1491 tiles and end abruptly after that.[1]
The Rainbow Gun produces minuscule knockback for each of its rapid hits, which tends to freeze enemies within its field. This is similar to the Vilethorn's effect, though the Rainbow Gun does not travel through blocks.
When fading, the rainbow will not fade all at once; but instead along its length similarly to the way it was formed. Firing another rainbow will cause the first to instantly disappear without the "fading" effect.
It can be fired through one tile-wide gaps in walls, floors and ceilings, and will fire through solid one-block-thick walls at certain angles, even without standing against the blocks to be penetrated.
Rainbows and Unicorns
 •
"Fire a rainbow gun while riding on a unicorn."
Fire a
Rainbow Gun
while riding a
Unicorn Mount
.

The Rainbow Gun can be used to bounce a Beach Ball, allowing a high bounce score.
The rainbow makes a faint light that is synchronized with other rainbow items such as the Disco Ball and Rainbow Bricks.
The Rainbow Gun is the only biome chest weapon that allows the player to receive an achievement.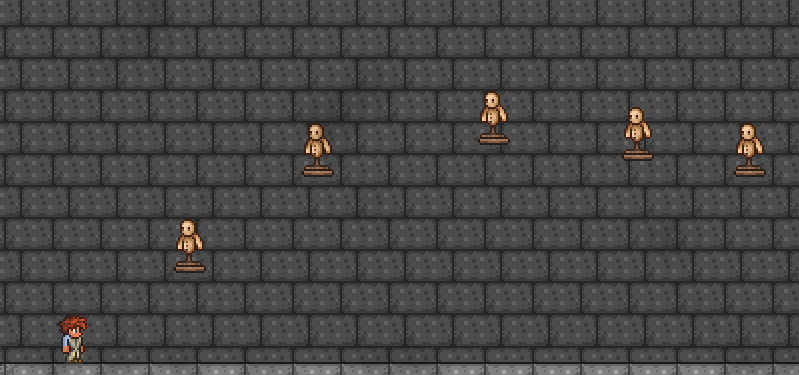 Desktop version
Desktop 1.3.4.1: Fixed a glitch that allowed players to obtain the Rainbow Gun Pre-Hardmode on a world with the seed 1423781313 (small, Crimson, Expert Mode). On the right side of the Dungeon, the game tried to place a Hallowed Chest and a wooden Chest in the same place, and the loot from the Hallowed Chest appeared in the Wooden Chest.
Desktop 1.3.0.1:

Rainbow duration increased from 10 to 20 seconds.
Knockback increased from 2 to 2.5.

 Console version

 Switch version

 Mobile version