Wiki reading hard on the eyes? Try out our Dark Theme! Visit
the preferences page
while logged in and select Hydra Dark.

As part of the Unified Community Platform project, your wiki will be migrated to the new platform in the next few weeks. Read more here.
Rune set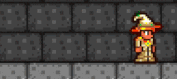 The Rune set is a Hardmode Vanity clothing set consisting of the Rune Robe and Rune Hat. It is always dropped together by the Rune Wizard, a rare Underground Hardmode enemy. Wearing the full set causes the player to emit a pulse effect, as well as a bright orange and green particle effect from their feet when walking. The particles are visible in darkness but do not actually emit light onto other objects.
 Desktop version

 Console version
 Switch version

 Mobile version
version