Shadowflame Hex Doll
Shadowflame Hex Doll
| | |
| --- | --- |
| Debuff | Shadowflame |
| Debuff tooltip | Losing life |
| Duration | 4-8 seconds |
Projectile created
Shadowflame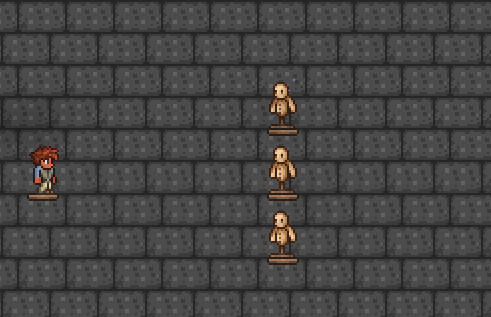 The Shadowflame Hex Doll is a Hardmode magic weapon that fires curving purple projectiles at decent range, which inflicts the Shadowflame debuff with the same purple flame effects. Using it a single time will fire 3 projectiles at once, but the weapon can be quickly used to make up to 9 projectiles at once. It has a 16.7% / 33.3% / 33.3% (1/6 / 1/3 / 1/3) chance to drop from Goblin Summoner during a Hardmode Goblin Invasion.
Its best modifier is Mythical.
Randomly, the Shadowflame tentacle will appear to bounce off a solid surface. This appears to happen most often when the tentacle was already going to be bending in a direction away from or parallel to the surface to start with. (The tentacles can technically bounce, but this happens very rarely; this can be seen most easily by shooting the weapon straight at a wall or by using mods to spawn tentacles that cannot curve.)
Because of the random deviation of the tentacles as they travel further away, it is less effective at its maximum range against smaller targets.
It could also be useful for segmented enemies and bosses because it hits a lot of segments with how much it pierces.

The Shadowflame Hex Doll is also an effective method of destroying Plantera's tentacles due to its pierce.
The Shadowflame Hex Doll has also been noted to be very effective against The Destroyer due to its pierce.

This weapon can prove to be extremely useful if acquired in early Hardmode, especially in tight caverns.
 Desktop version

 Console version

 Switch version

 Mobile version