Snapthorn
Snapthorn

| | |
| --- | --- |
| Buff | Jungle's Fury |
| Buff tooltip | Melee speed is increased |
| Duration | 3 seconds |
Projectile created
Snapthorn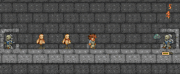 The Snapthorn is a pre-Hardmode whip crafted out of Jungle materials.
Like other whips, it causes minions to focus on the last-struck enemy and increases their damage against the target. If the whip continuously strikes an enemy, its attack speed (by 20%) will increase for a short time. The whip also inflicts the Poisoned debuff on enemies for 4 seconds.
Its best modifier is Legendary, despite it being a summon weapon.
Due to the nature of Snapthorn's Jungle's Fury buff, switching to another whip while the buff is active will increase its speed for a brief period.
Between the Leather Whip and Snapthorn, it is usually easier to obtain the Snapthorn first as it is made from craftable materials, while the Leather Whip requires the Zoologist to be present, costs 15 gold coins, and needs 10% of the Bestiary to be filled (53 entries). Depending on the player's preference, it may be worthwhile for summoners to venture into the Underground Jungle to collect materials to craft the Snapthorn in the early game, despite the dangers of the biome.
Result
Ingredients
Crafting station
Snapthorn
Iron Anvil
or
Lead Anvil
 Desktop version

 Mobile version