Wiki reading hard on the eyes? Try out our Dark Theme! Visit
the preferences page
while logged in and select Hydra Dark.

As part of the Unified Community Platform project, your wiki will be migrated to the new platform in the next few weeks. Read more here.
Snow Cloud
Snow Cloud
Statistics
Type
Placeable

(1 wide × 1 high)

Use time
15

(Very fast)

Tooltip
Prevents fall damage
It gets pretty cold up there
Rarity
Research
100 required
Snow Cloud is a block type that can be crafted at a Sky Mill from Cloud blocks in the Snow biome. This block causes purely decorative snowflakes to appear beneath it, continuing for about 8 tiles and then fading away for 5 more.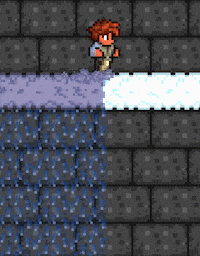 If you use a Hook to grapple it, a small puff of cloud can be seen.
A solid block stops the snow from falling, while a hammered block doesn't.
The Guide refers to the Snow biome requirement for crafting this item as "Cold Weather".
 Desktop version

 Console version
 Switch version