Wiki reading hard on the eyes? Try out our Dark Theme! Visit
the preferences page
while logged in and select Hydra Dark.

Tragic Umbrella
Tragic Umbrella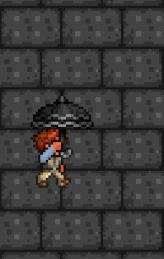 The Tragic Umbrella is a held item which can be purchased from the Clothier for 100000*10 while in a Graveyard. When held, the Umbrella appears above the character and allows the player to fall at a slower rate. It is also a melee weapon. It functions exactly like the standard Umbrella, aside from dealing extra melee damage and a higher sell price.
Its best modifier is Legendary.
 Desktop version