Wiki reading hard on the eyes? Try out our Dark Theme! Visit
the preferences page
while logged in and select Hydra Dark.

Zapinator
For the
 Desktop version
-exclusive
weapons
, see
Gray Zapinator
and
Orange Zapinator
.
Zapinator

Projectile created
Green Laser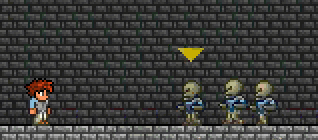 The Zapinator is a
3DS-exclusive,[1] Hardmode magic weapon that shoots very rapidly. It has an approximate 1.25% (1 in 80) chance of being dropped by Plantera, but the exact drop chance is unknown. It shoots green projectiles very rapidly.
Its best modifier is either Masterful for mana conservation or Godly/Demonic for higher damage output. It cannot get the Mythical modifier due to its low mana cost.
 Desktop version
version